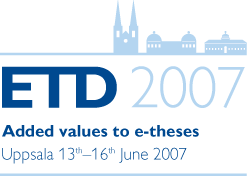 Papers
Adam Mikael, Tim Brace, John Leggett, Mark McFarland : Developing a Common Submission System for ETDs in the Texas Digital Library.
Abstract | Full paper
Ana Pavani : Looking at ETDs from Different Points of View.
Abstract | Full paper
Anup Kumar Das, Chaitali Dutta, B.K. Sen : ETD Policies, Strategies and Initiatives in India: A Critical Appraisal.
Abstract | Full paper
Barbara Signori : e-Diss.ch: collecting and archiving online theses at the Swiss National Library.
Abstract | Full paper
Fabrizia Bevilacqua : Polimnia project: issues and problems of realising a deposit of theses at the University of Parma.
Abstract | Full paper
Gary M. Worley : Dissertations Unbound: A Case Study for Revitalizing Access.
Abstract | Full paper
Heyse Wouter : Supporting change and diversity for theses in an institutional repository.
Abstract | Full paper
Holly Mercer : Open Access and Responsible Research: Preparing Future Faculty at the University of Kansas.
Abstract | Full paper
Izumi Sugita, Yuko Murakami : Thesis publication via institutional repositories in Japan: a preliminary survey and case studies.
Abstract | Full paper
John H. Hagen : Building Effective Discovery Tools for Academic Promotion and Tenure Evidence: the Added Value of ETD and Institutional Repository Metadata, Citation and Access.
Abstract | Full paper
K V Satyanarayana, B Ramesh Babu : Trends in the development of E-Theses in India: issues, contraints and solutions.
Abstract | Full paper
Maitrayee Ghosh : ETDs in India: Towards a national repository with value added e-theses service.
Abstract | Full paper
Martin Halbert : Integrating ETD Services into Campus Institutional Repository Infrastructures Using Fedora.
Abstract | Full paper
Paola Galimberti, Marialaura Vignocchi : Time for a change: the Italian CRUI-Open Access Working Group's action for a national e-theses provision service.
Abstract | Full paper
Peter Sefton : An integrated approach to preparing, publishing, presenting and preserving theses.
Abstract | Full paper
P. Rajendran, B. Ramesh Babu, S. Gopalakrishnan : Integrating E-Theses into Local Services: A Case Study of SRM University (Chennai) India.
Abstract | Full paper
Reinis Markvarts, Iveta Gudakovska, Gatis Karlsons : The University of Latvia ETD program: a case study of local practice.
Abstract | Full paper
R. Mishra, S.K. Vijaianand, Noufal P.P., Gaurav Shukla : Challenges and Innovations: Establishing an ETD @ Indian Institute of Technology Kanpur, India.
Abstract | Full paper
Rogerio Toshiaki Kondo, Maria de Lourdes Rebucci Lirani, Vinicius Augusto Taglatti Zani, Caetano Train Junior, Paulo Cesar Masiero, Fabio Kon : Using Ajax to integrate institutional electronic theses and dissertation respository with corporate systems at University of São Paulo.
Abstract | Full paper
Ryan Richardson, Edward A. Fox : Using Concept Maps in NDLTD as a Cross-Language Summarization Tool for Computing-Related ETDs.
Abstract | Full paper
Seungwon Yang, Sanghee Oh, Jeffrey P. Pomerantz, Barbara M Wildemuth, Edward A. Fox : Improving Education and Understanding of NDLTD.
Abstract | Full paper
Sharon Reeves : User-Generated Metadata for ETDs: Added Value for Libraries.
Abstract | Full paper
Vilius Kuciukas, Antanas Streimikis, Arunas Frankevicius, Aleksandras Targamadze : ETD discovery services in Lithuania.
Abstract | Full paper
Wendy White : Opening access and closing risk: delivering the mandate for e-theses deposit.
Abstract | Full paper
Submission Guidelines
The Program Committee of ETD 2007 invites you to submit your proposals for papers and posters. Under the general theme "Added values to e-theses", ETD 2007 is organised around two main themes: "Integrating ETDs with institutional processes and practices" and "Value added services". For more information, see conference theme.
To submit your paper, follow these instructions. Abstracts and full papers will be made available on the conference web site.
A list of accepted papers can be found here.
Presentation Guidelines
Speakers of single papers will be given 15-20 minutes for their presentation, plus 5-10 minutes for questions and discussion.