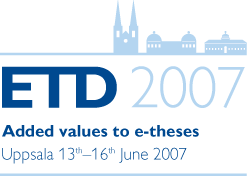 Travel Grants
The ETD 2007 symposium believes it is important that delegates from all nations have an opportunity to attend the conference. The ETD 2007 Travel Grant Program is designed to support individuals from developing countries to do so. Travel Grants may be provided for travel and/or lodging, and/or conference fees. The Travel Grants are not intended to cover the full cost of attending the Conference.

To receive travel funding a candidate should provide a letter of support from his/her superior noting that the conference is of particular interest to the institution. Some explanation should be provided about following plans. Candidates for lodging support and conference fee scholarships need not be from developing countries, but should have demonstrated need of financial support.
It is also required that, within six months of attending the ETD Symposium, recipients of travel grants submit, to the Chair of the NDLTD Conference Committee, a short (one page) report on how attendance benefited them and what, if any, actions they were able to implement at their home institutions.
The application deadline is March 1, 2007.
Send application to:

Ingela Tång: ingela.tang@sub.su.se
or Margareta Fathli: margareta.fathli@sub.su.se
ETD 2007 wishes to acknowledge the generous support of the following organization:
Networked Digital Library of Theses and Dissertations (NDLTD)
The Networked Digital Library of Theses and Dissertations (NDLTD) is an international organization dedicated to promoting the adoption, creation, use, dissemination and preservation of electronic analogues to the traditional paper-based theses and dissertations.