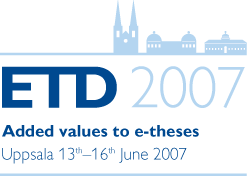 Posters
Alexandros Koulouris, Dionysis Kokkinos, Angelos Anagnostopoulos, Maria Tanti: The institutional repository of NTUA: challenges, concerns, pilot implementation and perspectives.
Abstract | Poster
Malgorzata Rozniakowska, Blazej Feret: Potential and Visions - local approach to e-theses across Poland.
Abstract | Poster
Nancy Digiácomo: Integrating ETD between Avellaneda National University and Avellaneda Municipal Library Services.
Abstract | Poster
Sirous Alidousti, Maryam Saberi: Electronic theses and dissrtations in the e-learning context: A conceptual model from Iran.
Abstract | Poster
Ronnie Kolehmainen, Stefan Andersson, Hanna Blomquist, Uwe Klosa and Anna-Karin Anderson: Long term preservation - from prototype to tools in operation.
Abstract | Poster
Stefan Andersson, Hanna Blomquist, Uwe Klosa, Ronnie Kolehmainen and Anna-Karin Anderson: The DiVA2 Publishing System.
Abstract | Poster
Guidelines
Posters will be shown during the entire conference. A separate poster session will be held on Thursday, June 14th, where the presenter is invited and asked to answer any questions the conference paricipants might have.
For Authors
Poster size: 140 cm x 100 cm (height x width)
You should bring a printed version of your poster to the conference. After the conference, your poster can be made available on the conference web site. The preferred file format for the poster is PDF.
A list of accepted posters can be found here.