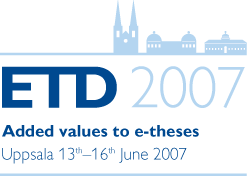 Social programme
Welcome Reception, June 13, at 17.30, University Main Building
A light buffe and drinks will be served. This event is included for Full Conference participants, One Day participants for June 13 and accompanying persons. Please mark attendance on the registration form.

Guide tour of Uppsala, June 14, at 17.30-19.30
A walking tour of central Uppsala including visits to the Cathedral and to Museum Gustavianum, the university museum with the Anatomical Theathre and Linneus Garden. The tour includes entrances and guide.
Price: SEK 250
Conference Dinner, June 15, at 19.00
Östgöta Student nation
The conference dinner will be held at Östgöta Student Nation in central Uppsala. The dinner is included in the registration fee for Full Conference participants and for accompanying persons. Tickets are distributed to delegates that have registered for the dinner. Please check at the information desk for available tickets. For One Day participants the cost is SEK 900. Please mark attendance on the registration form.
Boat trip to Skokloster, June 16, at 12.45 - 18.00
A trip on m/s Kung Carl Gustaf, along the winding river Fyris to the Skokloster Castle by the lake Mälaren.The tour includes a guided tour of the castle and its unique library.
Price: SEK 700 including boat trip, entrance and guided tour of the castle, lunch and coffee on the boat.
More information about Skokloster castle

In the footsteps of the great botanist Carolus Linnaeus - A guided tour, June 16 at 12.45 - 16.00
The tour includes a visit to the Botanical Garden of Uppsala with lunch, Carl von Linneus memorial site in the Dome. You will be guided through the fascinating botanical garden of the "flower king" and see some of his original plants.
Price: SEK 275 including guided tour of the Dome the Linnaeus´Garden and lunch in the Botanical Garden.